Going Old-School: Norse God Odin Meaning and Insights
If pressed to make a choice, I'd say the Norse god Odin is one of my favorite ancient gods. That's why I just had to write about wicked-awesome Odin meaning and symbolism. Why? Because he's old school. While Zeus was out playing pranks and scheming for more power – Odin had other motives.
What sets Odin apart from most gods in most cultures is that he was for the people. While many gods in cultures around the world were fixated on self-preservation, Odin made great sacrifices to give humans the gifts they needed to survive in a harsh world. He was a true benefactor to the human race.
Top 10 Reasons to Love Odin
Here are a few reasons Odin makes my top 10 list of favorite deities:
He was a humanitarian
He was an animal lover
He had a great appreciation for art and poetry
He was a fearless warrior
He respected his comrades in arms
His thirst for knowledge was unquenchable
He never gave up, even when he knew fate suggested he should
He didn't say much, but what he did say was profound
He understood great sacrifice is required for great gain
He was a pretty good-lookin' dude from what I can tell 😉
Odin The Norse God and the Nitty Gritty of Creation
Odin is a father-god as well as a sun god.  His association with the sun makes him a light-bringer, a creator, a passionate leader whose destiny simply must shine brightly.  Indeed he was bright, and he did a crackerjack job and creating stuff.
Well, sure, there's that little detail of Odin almost killing his father Ymir which isn't a very creator-type thing to do. However, by slaying Ymir, Odin (and his brothers Vili and Ve) created middle earth. You see, Ymir was the first giant. After he was sacrificed, his blood became our oceans, his bones became our mountains, his flesh became our land, and his hair became our vegetation. To his credit, Odin didn't entirely off his dad. Ymir still lives, although in a subdued state. You know Ymir is still alive and kickin' when earthquakes happen, that's Ymir shifting his body.
After middle earth was created, Odin got the bright idea to populate the place. So he took an ash tree and crafted the first man. From the elm tree, he sculpted the first woman. I'd say he did a pretty fine job on both physiques.
Odin was an industrious dude because he didn't stop at creating the earth or humans. He also separated day from night. Quite a neat trick if you ask me. The ever-savvy Odin figured all this stuff needed a bit of organization, so he established Midgard (middle earth) for humans, then Asgard – the home of the gods.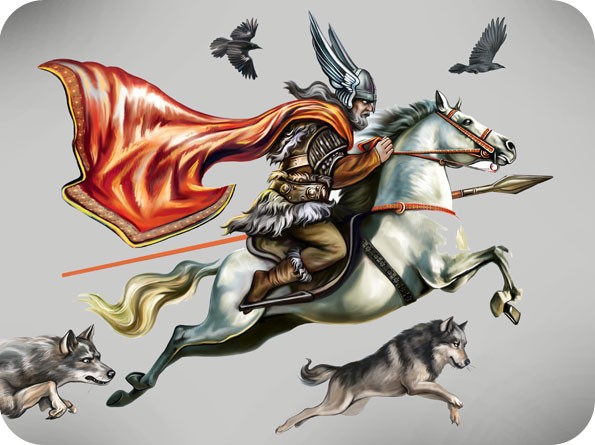 The Secret Life of Odin – The Personality Behind the God
Within the god neighborhood of Asgard, there was a great hall called Valhalla. That's where Odin chose to spend his days and nights. Interestingly, the term Val means 'death' or 'slain' and halla means 'hall.' So essentially, Odin's address was 'the hall of death.' But it's not as macabre as you might think. This was a place of warriors who died bravely in battle, fighting for the cause.
Valkyries (which means 'choosers of the slain') also lived in Valhalla. These were lovely, strong women who at Odin's bidding, brought the bravest fallen warriors back to Valhalla. This wasn't a gloomy glum place to pass your time in the afterlife. Nope. Big feasts were thrown every day and night. Sometimes warriors had friendly tests of strength against each other. Wild boar was served every night, and the mead (beer) flowed like waterfalls.
You'd think Odin would be whooping it up with his warriors and Valkyries, but hid didn't. He never ate. Rather, he gave his meat to his two wolves, Geri and Freki. But boy-howdy he drank mead like a fish. A god after my own heart. Odin also preferred to be alone rather than join the antics. He was a deep thinker. I suppose the alone time allowed him focus and the concentration he needed to protect, organize and enhance his kingdom.
Odin's Animal Allies
Odin had an inside edge when it came to wisdom. He had two ravens (sometimes crows, depending on the literature you're consulting). Their names were Hugin, which means 'thought' and Munin which means 'memory.' Every day Hugin and Munin would fly throughout the land gaining information. They would return at dusk and report all the going's on they observed to Odin.
As far as Geri and Freki – these weren't any ordinary wolves. They were supernatural. These were warrior wolves gifted with super-canine strength. They adored their Norse god Odin, and never left his side. So loyal, they would protect Odin with their lives. Woe to the fellow who went up against those hell hounds. Mangle-mania! Oy!
Always the animal lover, Odin also had a horse. But not just any horse. His name was Sleipnir, and he had eight legs. His name means "slippery" – I suppose he would be a slippery one to catch, having eight legs! Sleipnir was as devoted to Odin as Geri, Freki, Hugin and Munin. This horse was also endowed with the gift to travel between dimensions. In essence, no place was off-limits to Odin as long as he had his noble steed.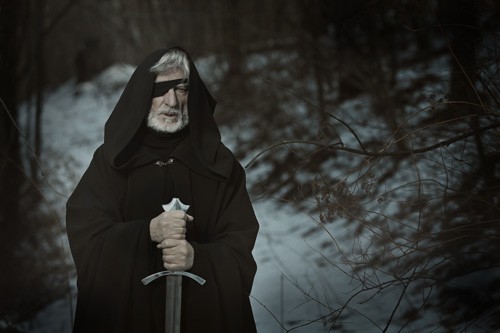 An Ode to Odin Meaning and Accomplishments
Odin had a phenomenal reputation for tending to the needs of the other gods in Asgard. He also paid special attention to his warriors. They were his pride. He took great care in their training and well-being.
Odin was always thinking of better ways to protect his people from the evil giants always wanting to pick a fight with Asgardians. So intent upon providing a peaceful, long-lasting existence for his people of Asgard, he made a gruesome sacrifice.
One day, Odin decided he needed more insight as to how to guard his people. So he went to the Well of Wisdom, which was guarded by Mimir. Odin asked for a drink from the well, but Mimir said there must be a price to be paid for such knowledge (there's always a price, ugh). In Odin's case, he had to pluck out his eyeball. Why Mimir wanted a slimy eyeball, I have no idea – but he got what he wanted, and Odin did too.
Ironically, with only one eye, Odin lost half his sight as well as his depth perception. But he gained 'second sight' or 'otherworldly' sight from the wisdom juice. From this 'second sight' he could see into the future, and what he saw was not good. He saw the ultimate demise of Asgard. But even after seeing this, he never gave up trying to find solutions to prevent its eventual end.
As mentioned, Odin also had a soft-spot for humans. None of the other Norse gods could really figure out what his fascination with us was, but Odin didn't care – he kept looking out for us all the same.
He made yet another great sacrifice, this time on behalf of humanity. He wanted to obtain the powerful gift of Runes to give to humans. Runes are magical inscriptions that can be engraved on wood, stone, whatever. These inscriptions are a language that can guide people and also offer protection. They can't necessarily tell the future, but the inscriptions can reveal certain potentialities that offer forewarning. The runes can also offer advice and solutions for various tribulations.
In order to get this gift for the humans, Odin hung himself from a wind-rocked tree for nine whole nights while being impaled with a spear. Ouch! But he won the right to have the Runes, and gave them to humans. Humans used them to help predict the weather, crop behavior, oncoming threats, solutions to family squabbles, and much more.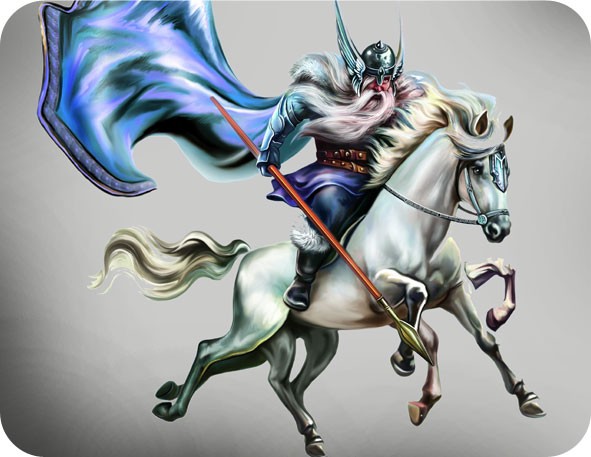 Closing Thoughts on Old-School, Norse God Odin Meaning
In summary, it should be clear Odin was one bad as* when it came to protecting his soldiers, his Asgardians as well as human kind. It should also be evident that Odin was outrageously determined to think his way through any problem. He was rabid about finding solutions – even if it meant self-sacrifice.
Odin also stood up for his beliefs. Even when the other gods were questioning his motive for fiddling with us humans – Odin still provided regardless. He provided a home and happiness to his warriors even in the afterlife. He created an almost Utopian place to live where all kind could live in harmony – at least for a time. I'd say that's pretty epic. And it's pretty old school to have a vision and hammer down on it, no matter what.
I hope you enjoyed this article on various thoughts on Odin meaning as a wicked-awesome Norse god. Of course there is tons more to Odin, so don't stop here. Keep researching. You'll find out about his lovely wife Frigg, his buff son Thor, and his emo son Loki. Keep diving into the fascinating saga of Odin, and you won't be disappointed.
As always, thanks for reading. I hope you enjoyed this post about the Norse god Odin meaning. You might also like these articles below.
Mighty brightly,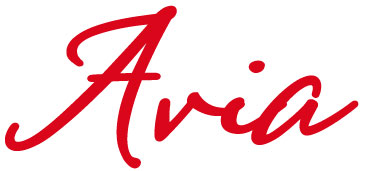 © Copyrighted. All Rights Reserved.
Other Articles of Interest on This Website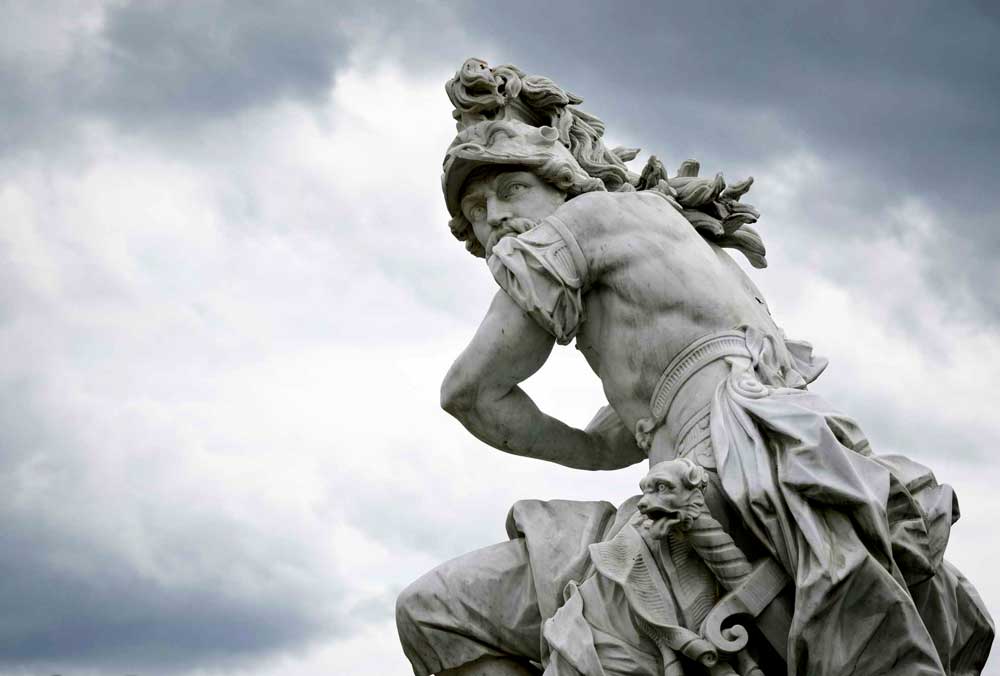 God and Goddess Symbol Meanings
Symbols were commonly assigned and attributed to gods and goddesses of ancient times. Why? Because each deity rules large-and-in-charge over a specific domain. Get more symbols for gods and goddesses here.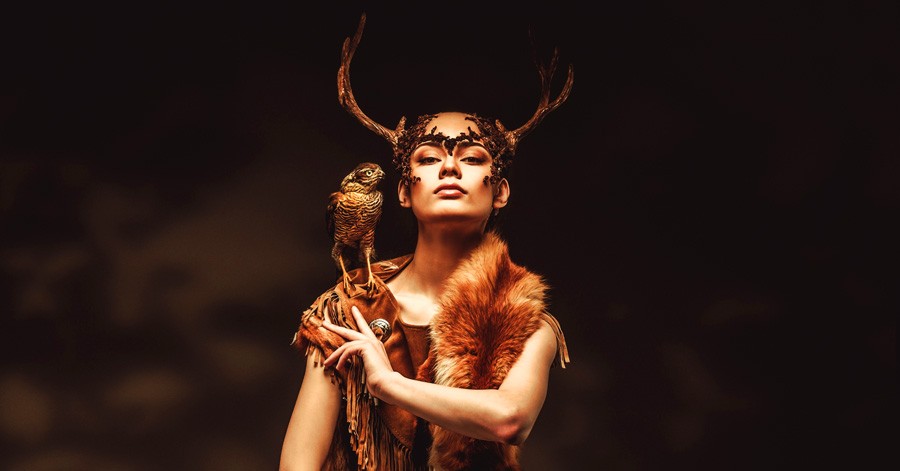 Symbolism of Celtic Gods and Goddesses
Celtic gods and goddesses serve as powerful symbols within the Celtic culture. They are representative of a stronger, higher power; they are immortal, yet possess human traits. Get more about Celtic god and goddess meanings here.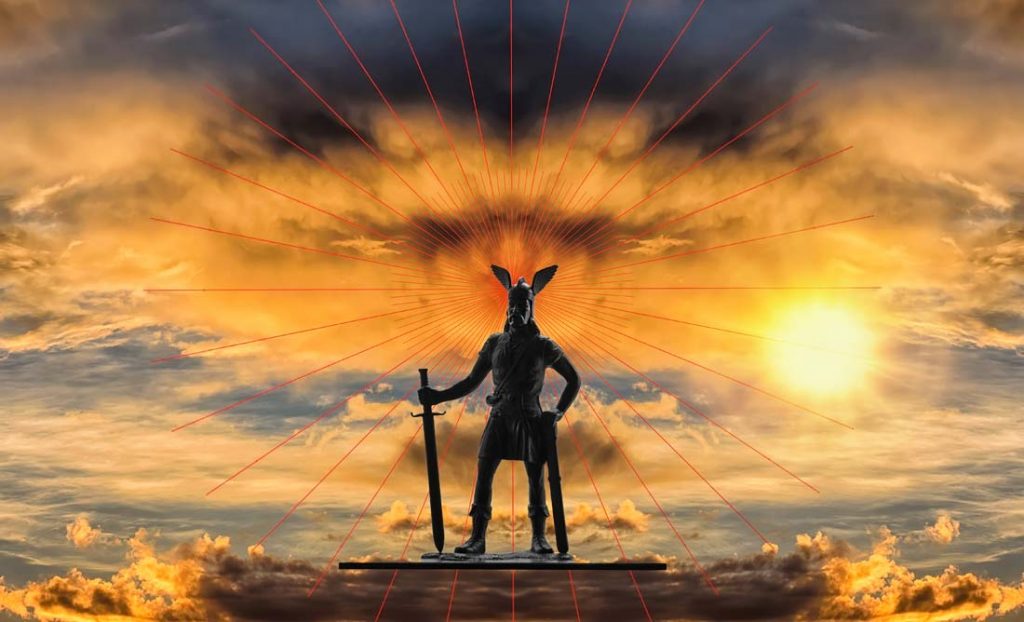 Norse Symbols and the God Odin
There are seven primary items created by Brokk, Eitri and/or the sons of Ivaldi. Over time, these seven gifts to the gods became more symbolic than literal tools or weapons. Get more about the seven Norse symbols here.