Best Mobile Apps for Mental Health and Wellness: Mental health apps have become really up-to-date nowadays as people live under constant pressure and stress. Since modern people spend a lot of time online, it would be great to have some digital therapy tools to consult, check, and maintain your health and current mental condition.
Of course, not even the best mobile apps for mental health can substitute for a good psychologist or mentor. However, mobile application development did a great job and gave us totally free or really low-cost options that will help us cope with some stress and reduce its level. There are also a lot of digital tools to help with depression that will not simply raise your mood but also make your state much better.
If you are one of those people who struggle with their mood changes, different disorders, or even depressions, you should check the list of the following apps that will help you cope with some really bad days. They are easy to download, install, and use. Some of them are free, and others are paid.
There is nothing easier than taking your smartphone, opening the app, and trying to figure out what to do right now, especially if you have no one to talk to at the moment. See the list and keep the apps in mind.
---
Talkspace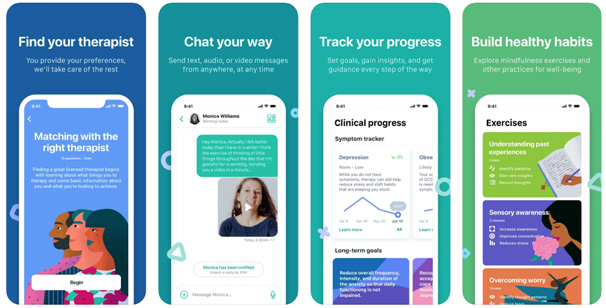 Talkplace is a great mental health tracker. Just like everything is good and of great quality, this app is not free and is not even cheap. Actually, this is the most expensive app on that list. It still has a lot of perks and is much cheaper than attending a therapist.
Benefits:
24/7 support;
Direct communication with your professional therapist;
The opportunity to change your professional mentor.
Drawbacks:
Quite costly;
Not a wide range of therapy techniques;
Not all experts suit your needs perfectly.
Unlike other best mobile apps for mental health apps on this list, this software gives you a unique chance to interact with a therapist. Moreover, you are supported round the clock. Most apps on that list are just digital assistants. Here, you have a real person who interacts and works with you whenever you need it.
A monthly plan starts at $65 per week. Yes, it is not cheap as a smartphone app. However, it is much cheaper than attending a therapist. Users rate the app quite high. There is a chatroom where you can be in touch with your therapist at any time. You can also have video sessions.
---
Happify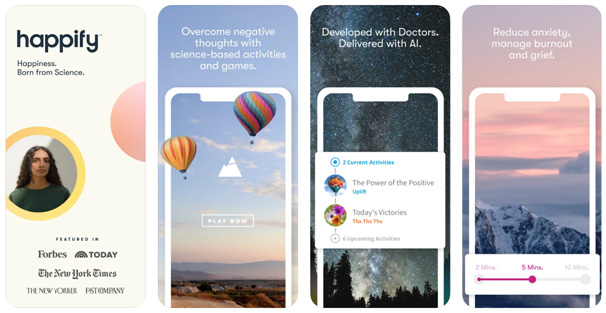 If you are looking for free mental health apps, this one is not for you. You will have to pay for this therapist in your pocket. Its benefits are still numerous.
Benefits:
Very user-friendly interface;
You can set very achievable and realistic goals.
Drawbacks:
If your mood is often down, this app will help a lot. It was created to raise your mood. Positive psychology techniques were used to create different activities for users. You will be doing them to reduce your stress, get rid of the negative thoughts, meditate, boost your self-esteem, and even work on your career success.
This app is not obligatory paid. You can use both free and paid versions of it. Of course, you will not be able to enjoy all the perks in a free version. Advanced features will cost you at least $14.99.
---
Moodfit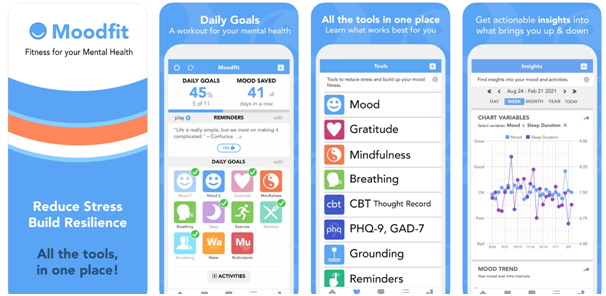 This is a healthy mind app to help yourself cope with your bad mood and really negative emotions. Here are the pros and cons of this software.
Benefits:
It is totally free;
You can adjust it to your goals;
An opportunity to track your progress daily;
Based on real exercises;
You receive daily reminders.
Drawbacks:
There are in-built purchases;
To track your mood, you will spend some time;
Some users say they lack progress.
This app is available both in AppStore and GooglePlay. It is quite easy to create the necessary mood thanks to this application. Just like fitness apps help people maintain their physical shape, this one helps maintain your mental shape.
You can enjoy it for free, but to get access to advanced features, you will need to pay extra. Based on the questionnaire, your symptoms will be evaluated. With time, you will realize what exactly affects your mood and how to improve it.
---
notOK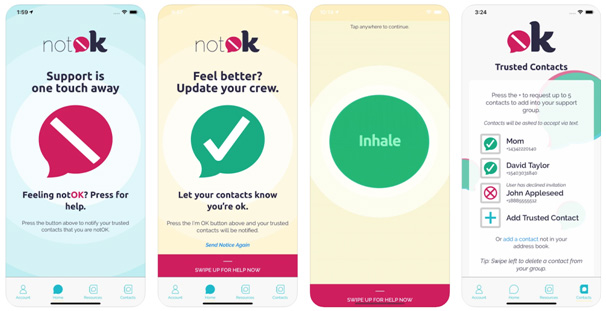 This is one of the best emotional support apps created by teens. A girl who struggled with her mental health created this wonderful helper together with her brother. This app is a sort of an emergency for everyone who experiences mental issues.
Benefits:
Available for both Android and iOS;
Free;
Involves the closest people who can help you.
Drawbacks:
You cannot get any mental help or improve your health with it. However, you can notify your close people that you need help right now.
A big red button will be activated when you need help or support from your friends, family, etc. You can create a support group and add up to five contacts there. The panic button will send the signal with your GPS location, so everyone would know where you are and that you need help right now. People will be able to find you easily.
In some situations, such an app may save someone's life, so you cannot disagree that it is quite helpful.
---
iBreathe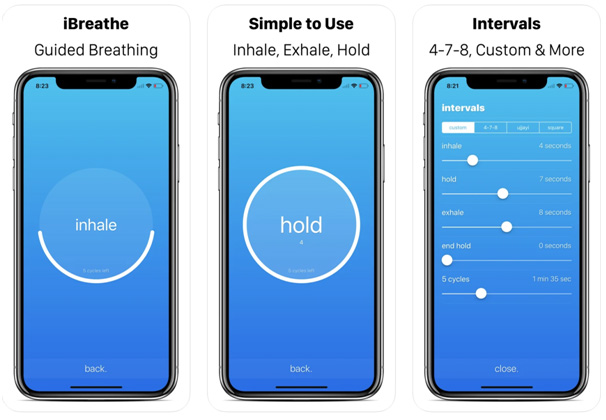 Living under stress is not a big deal in modern life. However, there should be ways to cope with it. This app that can be easily downloaded on your smartphone will help you do that. Sometimes, it works better than a good yoga class.
Benefits:
Absolutely free;
User-friendly interface.
Drawbacks:
There are not many features, so you may need some other apps to use in tandem.
You may adore yoga and various breathing techniques. Then, this app will help you relax and get rid of your stress. Master breathing exercises right on your smartphone. or tablet. The app is aimed at teaching users various deep breathing techniques. You will have no issues using it.
This app is simple and does not distract or overwhelm you. On the contrary, it helps stay focused. There is one nuance, though — you should practice your exercises daily. Otherwise, there will be no progress. Set up a reminder if you are not sure to remember about it.
The app is totally free. However, it has some ads popping up. You can pay less than $2 just once and get rid of those ads forever.
If you experience some difficulties with your mental health and are too busy to attend a therapist or psychologist, you can always download one of these best mobile apps for mental health and enjoy some techniques daily or whenever you may need it. Have your personal mentor in your pocket.
Author's Bio:
Aston Rhodes is an experienced content creator and marketing expert from JatApp custom software programming. Aston has been helping authors improve their blogs for over 5 years and turn this hobby into a business. She enjoys sharing her experiences with a like-minded audience and writes about software development, digital marketing, business, career, and more.
Other Articles of Interest on This Website