Deer Meaning and Soulful Deer Artwork by Rosabelle
Do you have a special connection with the deer? Maybe you've got a deer totem, or perhaps the deer is a powerful spirit guide for you. If you have a strong attraction to the deer, and deer symbolic meanings, then I've got a treat for you: Deer artwork hand crafted by a brilliant professional artist.
So many times, I get asked the question: "Avia, how can I connect more deeply with my spirit animal?" I offer a lot of advice about engaging our animal guides.
My #1 tip is this: Keep an image of your animal totem and focus on that to enhance your connection.
Maybe you want to reinforce your relationship with the deer. Or maybe you need big-time guidance from this amazing creature. Either way, having deer artwork around you can really enrich your perception of deer energy, and will absolutely produce positive results.
This is why I highly recommend the meaningful and soulful deer artwork hand crafted by Rosabelle.
The artist is as devoted to nature and all her creatures as we are! As a nature lover, Rosabelle immerses herself in her subject matter. She has a profound respect for the ways of our earth and the bountiful beauty that comes from it.
Rosabelle's Creative Process with this Deer Artwork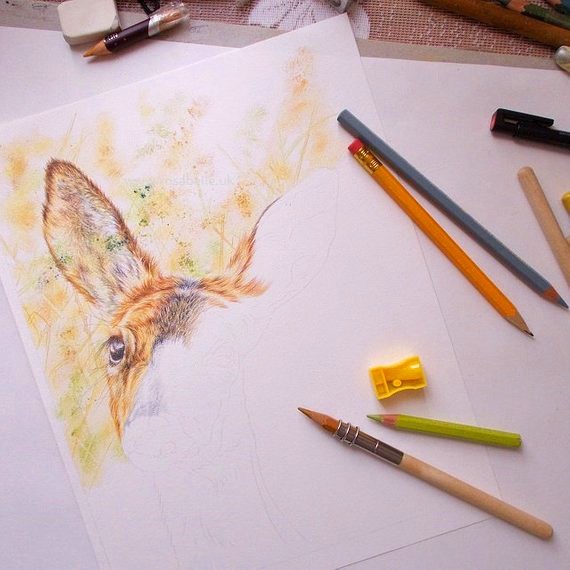 Inspiration and Symbolic Deer Meaning for this Deer Portait
If you have a deer totem, or an affinity to deer energy, then you've probably got a good idea about the deeper symbolism of the deer. Here are a few highlights about the deer to keep in mind when you focus upon this beautiful deer artwork… Keywords for Deer Meaning:
Grace
Peace
Instinct
Caution
Creative
Sensitive
Perception
Path-finder
Inspiration
Summary of Deer Totem Symbolism: The deer is a strong reminder of using skill and strategy when it comes to making our way in this world. Moreover, the deer is an outstanding way-maker…so when it comes to blazing new trails, the deer is the perfect animal guide to have on your side. What's very cool about this aspect is the deer is so very cautious.
Typically when we are innovating new ways of doing things, we get the idea of this fearless, bold leader. Yeah, that's true to an extent, but deer energy asks us to be smart, savvy, strategic. Deer ask us to be sensitive to our surroundings, perceptive and intuitive about the new challenges we are undertaking.
The deer adds a sense of elegance, patience and gentle knowing to any situation. The deer encourages us to be keenly aware of our environment in relation to our needs. Then she asks us to take calculated, steps forward in the direction of our best benefit.
Messages of Guidance from the Deer:
Nothing is one-dimensional. Get deer vision and see things logically and practically…but also heighten your view by using your senses and your intuition.
Balance is key. The deer often shows up in our lives when we are a little out of whack. She reminds us to get in-tune, and gain harmony.
Be alert. As a guide, deer are amazing at showing us how crucial it is to be aware of our surroundings. Deer ask us to use all of our skills of perception to understand ourselves, our environment and our direction.
Deer Portrait Title: "Hesitance"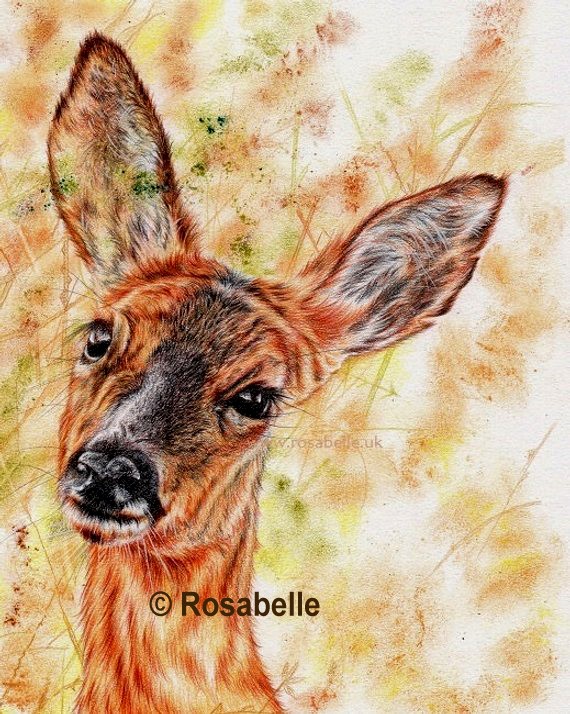 A Bit About This Deer Portrait
Featuring a highly detailed fallow deer, from the original hand drawing entitled "Hesitance"
Professional quality, made to order print, on softly textured Somerset Velvet paper, giving the effect of an artist's watercolour paper.
Lightfast inks guarantee the print to last a minimum of 75 years when placed out of direct sunlight
Prints are individually signed by the artist
Includes hand signed Certificate of Authenticity
Unmounted and unframed
Shipped flat with backing board and cello sleeve
Watermarks do not appear on print purchased
To learn more about Rosabelle, and this piece, click here.
Better yet,
You know me. I do not promote products I don't believe in, and I absolutely adore Rosabelle. These finely crafted pieces are thoughtfully created and they are made with authentic love for the wonders of nature.
When you buy from Rosabelle, be sure to include the code "SIGNS" in your order!
As always, thank you for reading. I hope you enjoyed this post on symbolic deer meaning and I know you are going to love this deer artwork piece titled "Hesitancy" when it is delivered to your door! Learn more about the artist and her art by visiting Rosabelle at Etsy
All images on this page are copyrighted and exclusive property of Rosabelle.
Other Articles of Interest on This Website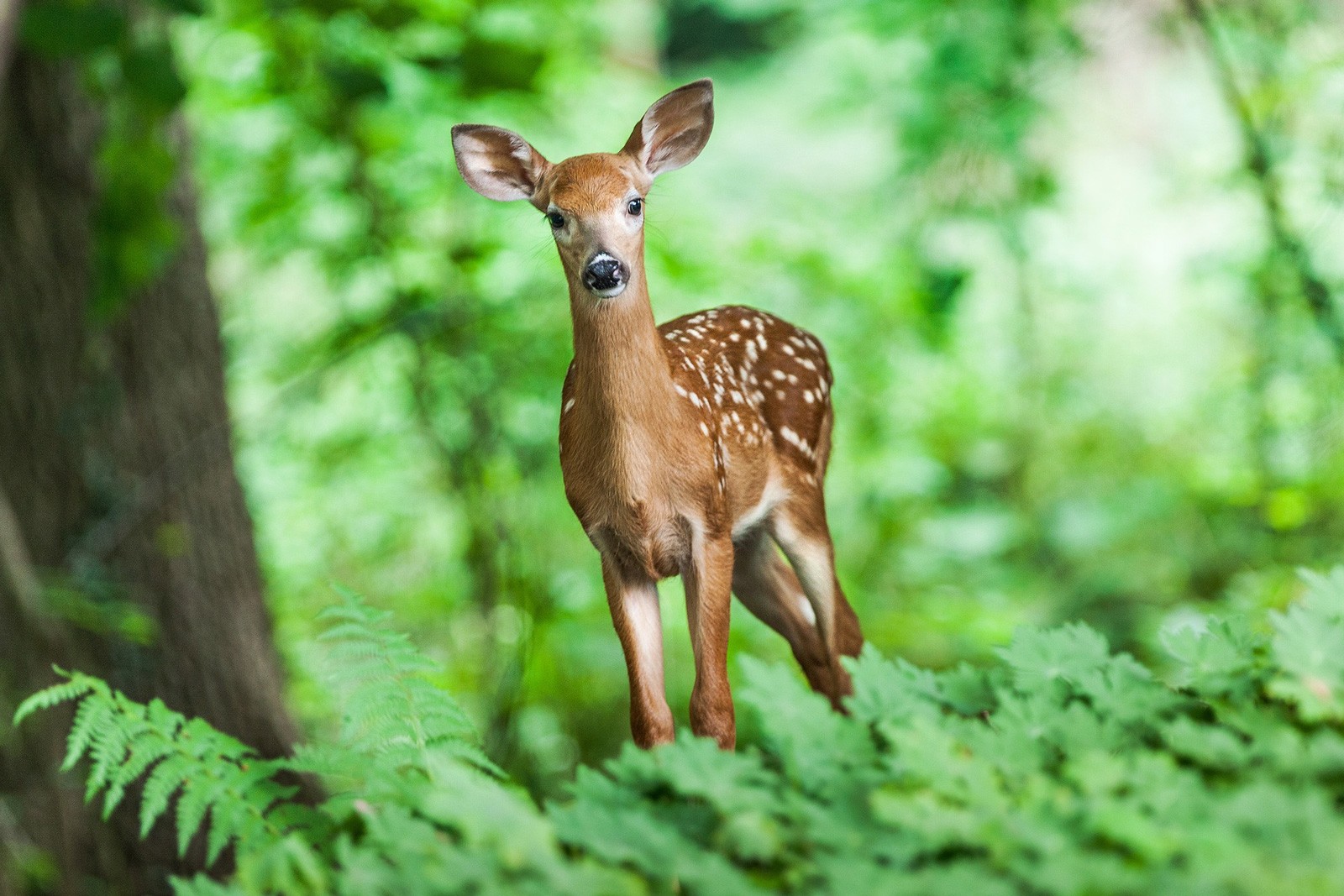 Symbolic Deer Meaning
When we see the deer, it is a sign to pay attention, be aware, and appreciate the beauty in our lives. But that's not all. The deer has so many lessons to teach us. Learn all about deer meaning here.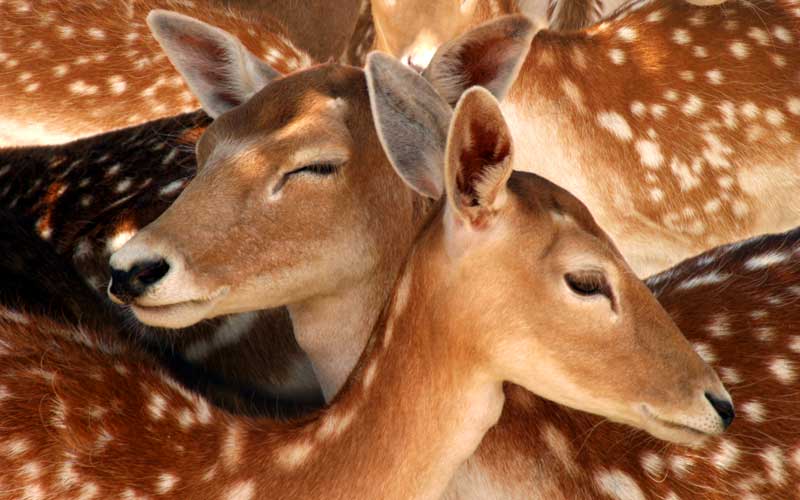 Deer Meaning in Dreams
Dreaming of deer hints to regaining balance – especially in terms of harmonizing with Nature. Deer encourage communion with the outdoors. They ask us to be sensitive to the rhythm and spirit of Nature. Learn more about animals in dreams and deer meanings here.