The clock is ticking, and the arrival of Christmas is bearing down on us whether we're ready for it or not. This Christmas feels different for me, for various reasons. It might feel different for you. That's why I thought I'd share a few humorous insights as to why Christmas is not for sissies in the hopes to lighten your mood.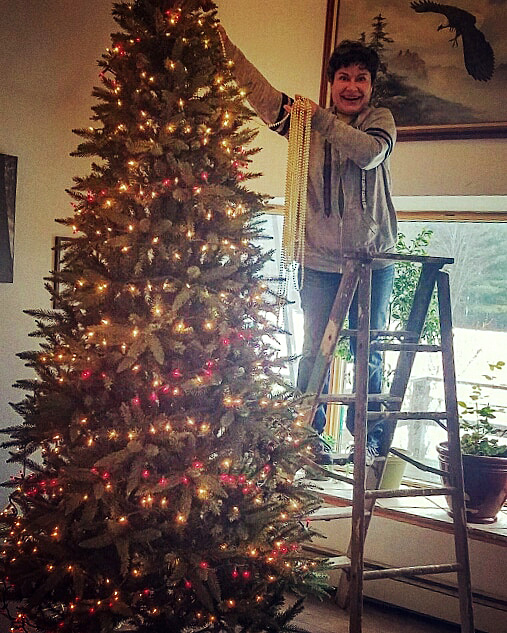 1) A big gold star goes to those of us who normally wouldn't be caught dead on an 8-foot ladder….but make an exception to hang holiday lights.
2) 'Shop till you drop.' What!? I'd rather drop first, and skip the shopping altogether. Shopping this time of year is not for sissies! It's madness out there!
3) Hot cocoa is such a cozy Christmas beverage. Unless, of course, it's served at 5,778 kelvin – which will melt your face off. Not pretty.
4) The weather outside really is frightful. At least in areas that get snow and ice this time of year. Sometimes venturing out in a 'winter wonderland' ain't so wonderful.
5) Gift bags rule, wrapping paper drools. Kudos to all of the wrapping-paper-challenged who dare to fold and square in spite of the vexing crinkles that foil.
6) You know you're not a sissy at Christmas when you don the knee braces and Ben-Gay before spending untold hours in the kitchen. Cooking should be a competitive sport this time of year. Bless you merry cooks and bakers for laughing in the face of personal injury and getting those tasty goods out!
7) Holiday traffic. Need I say more? Not for sissies.
8) Cats! If you have one and deck the halls for Christmas – you are definitely not a sissy. Every new Christmas bauble and sparkle is fair game for the felines. I found an ornament in the bathroom sink. Don't know how it happened, but I know there was a cat behind it.
9) Dogs! How many times do we have to tell them not to drink from the Christmas tree water container? And what's up with the overly affectionate advances on the stuffed Santa pillows? Off!
10) Sometimes keeping our sanity this time of year can be a Herculean feat. The holidays are so out-of-the-norm. New stuff, a break in the usual routine, visiting friends and family we normally don't see. It's a tsunami of uncommon experiences. This can potentially uproot a body that's been quite alright in a comfort zone every other day of the year. Hat's off to those of us who embrace the unique situations Christmas might toss our way.
Now don't get me wrong. I dig the holidays. But they can present some challenges. Our early ancestors experienced challenges too, and they intimately knew why Christmas is not for sissies. Read on for what I mean.
Winter Solstice: Coping With The Dark Side of The Year
This was a hard time of year for early humankind. In fact, some of the roots of Christmas traditions today were born from early darkness. Specifically, this, the winter solstice, is the darkest time of the year. To explain, the winter solstice is the shortest day of the year, and hence, the darkest. It was a time that was symbolic of unknowns and mystery for early peoples. The solstice brought up questions like: "How harsh will the weather be this year? Can I provide for my family through the winter?" or, "Will we be spared illness?" or even, "Do I have enough food?".
To counteract some of these fears, civilizations, and cultures (especially early Europe) started to employ good juju. For example, they brought in pinecones and evergreens into the home to brighten the gloom. The scent of pine is invigorating and proven to lighten the mood. The sight of an evergreen bough indoors is inspiring against the stark, snowy landscape outside. Interestingly, this practice eventually grew into our modern-day Christmas trees!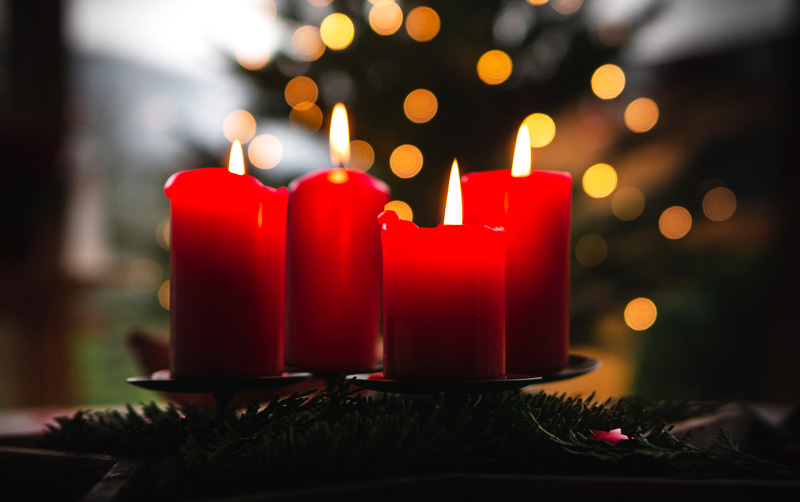 Another example: Candles. Early traditions included ceremonies around lighting candles. This symbolizes the return of the light…the promise of lengthening days and the eventual return of spring. Fire and candles are icons of the eternal light that is always present – even if not evident all the time. There are lots of old practices that uplift this sometimes anxious time of year. Check out my Symbolic Meaning of Christmas post to explore a few.
The Last Word on Crushing Christmas Stress
Let's face it. Christmas is not for sissies. It certainly wasn't for our ancestors way back when…and even though our challenges have morphed, in many ways, today's challenges are just as stressful.
We can transform holiday anxiety. How? Be grateful. Have a laugh. Poke fun at some of the lunacy that goes on this time of year. Appreciate what we DO have. And give to others who need more than we do. Just thoughts. As always, thanks for reading.
I hope all your holiday moments are magical and mostly stress-free.
Mighty brightly,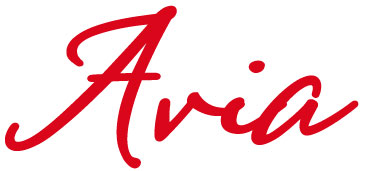 © Copyrighted. All Rights Reserved.
Other Articles of Interest on This Website