Once, the Dalai Lama said, "Without technology, humanity has no future, but we have to be careful that we don't become so mechanized that we lose our human feelings." This really is such a profound and truthful statement. The important thing to remember is to use technology in our favor rather than abusing it. That's why we're sharing these 7 apps that can improve your life.
How Technology Can Impact Our Lives
In modern life, technology has influenced our lives in many different ways. We use technology such as smartphones, computers, or other smart gadgets to communicate with other people, learn about important things, and even decide what to buy at the market. To this purpose, apps can improve your life and play a major role in enhancing your overall wellbeing.
However, these smartphone apps may either harm or help our morale. According to some recent studies, social media apps are the major cause of depression and anxiety in youngsters these days. So, how can you use apps that can improve your life? What are some life-changing apps?
If you're asking these questions, this blog post lists down eight self-improvement apps that can improve your life and potentially help you control your emotional state without using medication.
Top 7 Tech Apps That Can Improve Your Life
This curated list of apps not only helps users take care of their mental health but also helps them stay organized and productive with each passing day. Furthermore, these apps that can improve your life can help you stay centered and balanced in today's hectic, chaotic world. Whether you are looking for a reminder to put a pause on your busy day, or want help setting positive intentions, these apps can help.
1 Daily Yoga
Yoga has been a long-held dream for years. However, scheduling class times or getting to a yoga studio isn't always achievable. Users who have decided to give Daily Yoga, a yoga app, a try are raving about its effectiveness. The more you use it, the more you can increase your yoga proficiency. It's actually quite an addictive app that can improve your life because the better you get, the more you want to strive to achieve the next level.
Daily Yoga app can change your life because yoga is proven to reduce high blood pressure, alleviate depression, helps regain mindfulness, and a slew of other physical and mental benefits. Furthermore, you can experience increased strength, concentration, and meditation. You can also anticipate feeling more flexibility and balance.
2 Get a VPN
As we said earlier, and as the Dalai Lama said in his years, technology can have a profound effect on a person's life. Some people might not realize how much a VPN can change the life of a modern person.
Every day we surf the internet on our phone, on a computer, tablet, or TV. Some of us even order take-out dinners or groceries through our phones or computers. And while scouring the internet, we visit a huge number of pages and learn new information that even 50 years ago was not available to everyone.
By using the android phone VPN you not only make your life easier but also the life of your phone. Because when we visit sites unknown to us, we can never say for sure whether they are safe. Could these pages have viruses? Or, are our locations being tracked in our browser? A VPN can protect your privacy and keep your devices safe.
You even can download an iPhone VPN app to absolutely secure your important data. Therefore, VPN today can really calm your nerves and provide you with a safe experience on the internet.
3 Insight Timer
Timer apps come With over 30,000 free guided meditations and music selections, Insight Timer is the ultimate app for mindfulness. You can utilize the various filters to find precisely what you're looking for in a matter of seconds. Do you want to fall asleep fast? From bedtime tales to binaural beats, there are many options available.
You can also choose between male or female voices for guided meditations, spiritual or secular material, background music, or no music. This is a great app that can improve your life because it makes mindful meditation sessions diverse, engaging, and interesting.
4 Fabulous
Designed to guide you through developing healthy habits step-by-step, Fabulous is an app that helps you achieve your goals. From losing weight to getting better focus, this app can help you keep on track.
Incredible results are achieved by making routines that are broken down day by day. You start with a simple activity and the app helps you to do it consistently for 3 days. You then build on this route until you replace negative habits with healthy ones.
5 Forest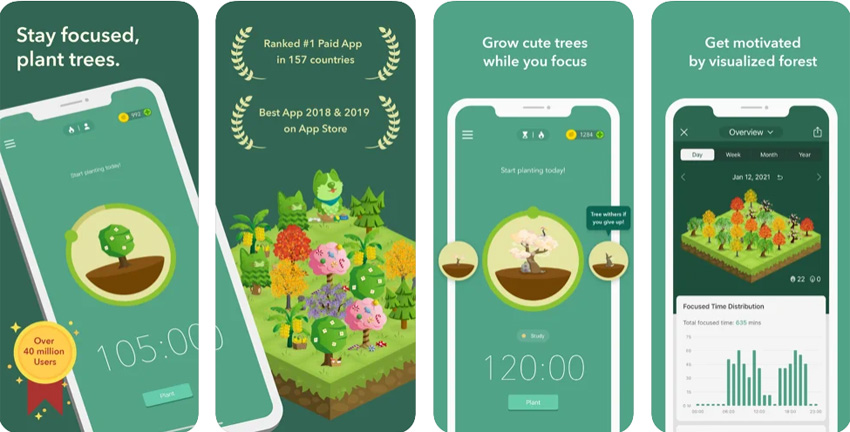 Forest is a straightforward and elegantly designed app that helps you to set a time limit for a period of uninterrupted work. As soon as the countdown begins, you will see a baby tree appear on your phone screen.
Your success in the time allotted will be reflected in the amount of tree growth. This is a neat way to beat procrastination, meet your goals and stay motivated.  If you struggle with staying focused and getting things done, the Forest app is an engaging, clever app that can improve your life. It makes time management feel like a fun game, making it enjoyable instead of a chore.
6 Tobee
Tobee is a free, basic mobile app that helps you choose a positive affirmation and have it appear on your smartphone screen at a predetermined time each day. You may pick from a list of affirmations that are organized according to what your intention is.
For example, you may want to write or choose an affirmation for self-esteem, to remind you of your power and help you stay confident. Or, you might want to have affirmations of self-love as a notification on your phone to emphasize your value and worthiness of love. If none of the available affirmations suite your needs, you may also create and add your affirmations.
7 Law of Attraction Toolbox App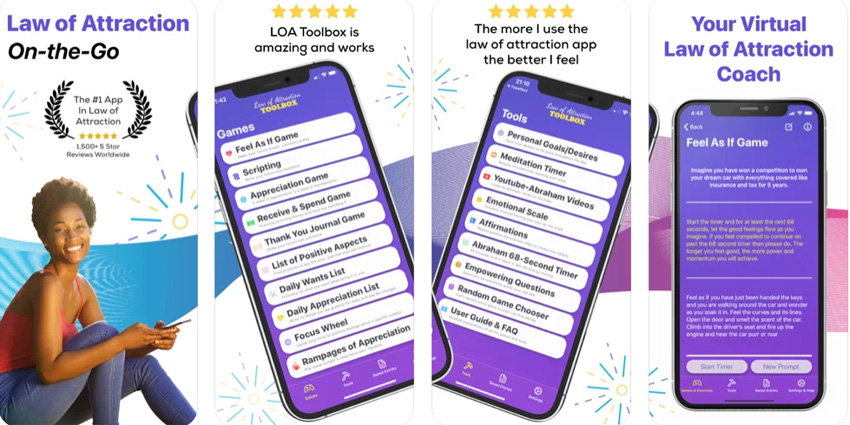 If you know anything about the Law of Attraction, you know it takes commitment and focus to manifest what you want. This is one of the better apps that can improve your life in terms of focusing on your intentions and affirmation in order to manifest.
The app has a myriad of games like the Appreciation Game and Rampages of Appreciation. These and other games are based on the Abraham-Hicks teachings, which have been around for almost 3 decades. This LOA app also has exercises on it that will walk you through such as scripting and daily wants prompts to help you raise your vibration.
Final Thoughts About Apps That Can Improve Your Life
If you're feeling overwhelmed by your hectic daily routines and need a break, these recommended success apps might be just what you need. The best part is that these are all free to download on your smartphone! These eight apps can improve your life in many different ways. Hopefully, these curated apps will help you manage your health, stay organized, and have you living the best life you deserve.
Mighty brightly,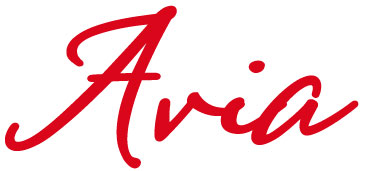 © Copyrighted. All Rights Reserved.
Other Articles of Interest on This Website